Apricot lovers celebrate National Apricot Day every year on January 9th. Related to the peach, the apricot's velvety flesh is quite similar. However, the texture of the golden-orange fruit is firmer, and the flavor more tart than its cousin's. Since we easily preserve the apricot, we enjoy this versatile fruit all year long – fresh, canned, and dried.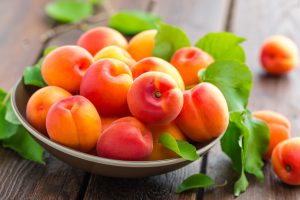 Apricots are found the world over but originated in northeastern China near the Russian border in ancient times. Later, the fruit was introduced to Europe and Armenia. The apricot found its way to North America when English colonists settled in Virginia. Apricots traveled further west when Spanish explorers and missionaries brought them on expeditions. This migration caused apricots to be grown commercially today.
The apricot tree can grow to 45 feet if left unpruned. It produces white, pink, or red blossoms and is a winter-hardy tree. However, early frosts can damage the fruit.
Fresh apricots pack in the nutrients. A 1 cup serving of apricot halves contains 60% of the daily allowance of Vitamin A, and 26% of the daily allowance for Vitamin C. Other vitamins in this low-calorie snack include Vitamin B-6, Magnesium, Iron, and Calcium and is also an excellent source of fiber.
With its unique flavor, the apricot is a versatile ingredient lending itself to both sweet and savory dishes. Perfect for snacking, apricots are best fresh off the tree but are also found in markets year-round.  Dried, they are delicious in healthy granola or a salad.
Apricot is a fruit that grows on a tree. A 2019 genetic study concludes that apricots were independently domesticated three times, twice in Central Asia and once in China, with extensive cross-pollination between wild and domesticated species across Eurasia.
The origin of the apricot is disputed; it was known in Armenia during ancient times and has been cultivated there for so long that it is often thought to have originated there.
An archaeological excavation at Garni in Armenia found apricot seeds in a Chalcolithic-era site. Its scientific name Prunus armeniaca (Armenian plum) derives from that assumption. For example, the Belgian arborist Baron de Poerderlé, writing in the 1770s, asserted, "Cet arbre tire son nom de l'Arménie, province d'Asie, d'où il est originaire et d'où il fut porté en Europe …" ("this tree takes its name from Armenia, province of Asia, where it is native, and whence it was brought to Europe …"). A large variety of apricots, around 50, are grown in Armenia today.