National Daiquiri Day is celebrated each year on July 19th.
Need a way to cool off? Why not celebrate Daiquiri Day. This refreshing drink was invented in the early 1900s in a small mining town of Daiquiri near Santiago, Cuba, an engineer named Jennings Stockton Cox created a simple drink called a Daiquiri.
Cox came up with this concoction in an effort to cool down during the summer month, with a simple blend of lime juice, sugar, and local Bacardi rum, over cracked ice. This he found to be the best way to boost the morale of mine workers during the hot months.
Such was the success of Cox's drink not only did he received a generous stipend from the company, but he also received a monthly gallon of Bacardi to continue supplying the refreshing drink.
WHY WE LOVE NATIONAL DAIQUIRI DAY
The taste

According to researchers, the taste of daiquiris releases a chemical in the brain which makes people want to drink more. It can also trigger the production of dopamine in the brain, leading to nothing but good times.

Daiquiris bring people together

Daiquiris provide that little bit of a reason needed to hang out with those we love. Throw a cocktail party, keep it relaxed, and catch up with your friends.

Daiquiris as a reward

A daiquiri is not just a drink, it is an achievement of sorts. From all the hard work that gets done – it ends with everyone getting together for a daiquiri. It's sort of like a gold medal at the end of anyone's day.
NATIONAL DAIQUIRI DAY DATES
| Year | Date | Day |
| --- | --- | --- |
| 2021 | July 19 | Monday |
| 2022 | July 19 | Tuesday |
| 2023 | July 19 | Wednesday |
| 2024 | July 19 | Friday |
| 2025 | July 19 | Saturday |
Just how do you make a classic daiquiri? It only takes three ingredients.
1 1/2 ounces of rum
3/4 ounces of freshly squeezed lime juice
1/2 to 3/4 ounces of simple syrup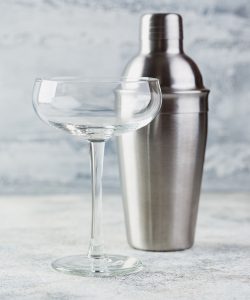 Add your ingredients to a cocktail shaker with ice cubes and shake well. Next your drain into a chilled cocktail glass and enjoy!
If the drink is a bit too tart, simply add more syrup.