The Day of the Dead is a Mexican holiday celebrated in Mexico and elsewhere associated with the Catholic celebrations of All Saints' Day and All Souls' Day. The multi-day holiday involves family and friends gathering to pray for and to remember friends and family members who have died. It is commonly portrayed as a day of celebration rather than mourning.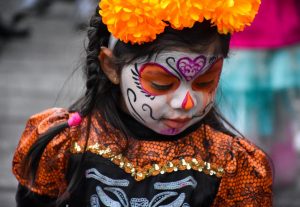 Day of the Dead is a holiday to remember loved ones by sharing a meal with them as one would when they were alive. Day of the Dead is actually a two day holiday, beginning on November 1st and ending on November 2nd.
People go to cemeteries to be with the souls of the departed and build private altars containing the favorite foods and beverages, as well as photos and memorabilia, of the departed. The intent is to encourage visits by the souls, so the souls will hear the prayers and the comments of the living directed to them. Celebrations can take a humorous tone, as celebrants remember funny events and anecdotes about the departed.
Day of the Dead originated several thousand years ago with the Aztec, Toltec, and other Nahua people, who considered mourning the dead disrespectful. For these pre-Hispanic cultures, death was a natural phase in life's long continuum. The dead were still members of the community, kept alive in memory and spirit—and during Día de los Muertos, they temporarily returned to Earth. Today's Día de los Muertos celebration is a mash-up of pre-Hispanic religious rites and Christian feasts. It takes place on November 1 and 2—All Saints' Day and All Souls' Day on the Catholic calendar—around the time of the fall maize harvest.
Calaveras (skulls) are ubiquitous during Day of the Dead. The skulls are often drawn with a smile as to laugh at death itself. They take many forms such as sugar candies, clay decorations, and most memorable: face painting. Sugar skulls are decorated and placed on ofrendas of loved ones. A Calavera, or sugar skull, is a decorative skull made (usually by hand) from either sugar (called Alfeñiques) or clay which are used in the Mexican celebration of the Day of the Dead.
Día de los Muertos, or Day of the Dead, is not a Mexican version of Halloween.
Though related, the two annual events differ greatly in traditions and tone. Whereas Halloween is a dark night of terror and mischief, Day of the Dead festivities unfold over two days in an explosion of color and life-affirming joy. Sure, the theme is death, but the point is to demonstrate love and respect for deceased family members. In towns and cities throughout Mexico, revelers don funky makeup and costumes, hold parades and parties, sing and dance, and make offerings to lost loved ones.
The rituals are rife with symbolic meaning. The more you understand about this feast for the senses, the more you will appreciate it. Here are 10 essential things you should know about Mexico's most colorful annual event.
Day of the Dead Cookies
In Mexico, chocolate and sugar skulls are placed on altars dedicated to the dead during the holiday. These buttery skull-shaped cookies aren't as elaborate as a sugar skull, but they're much tastier.
FOR THE CHOCOLATE CINNAMON COOKIES:
1 1/2 cups

 all-purpose flour, plus more for rolling dough

1/2 cup

 plus 2 tablespoons unsweetened cocoa powder

1/4 cup

 ground cinnamon
Pinch salt

12 tablespoons

 (

1 1/2

 sticks) unsalted butter, softened

1 1/4 cups

 powdered sugar

1

 egg

1/2 teaspoon

 vanilla
FOR THE ICING:
2 cups

 powdered sugar

3 tablespoons

 milk
DECORATIONS:
Skittles candies, sprinkles (jimmies and nonpareils), candy corn, M&Ms candies, cinnamon hearts, candy-coated sunflower seeds, licorice, etc.
In a medium bowl, whisk together flour, cocoa powder, cinnamon, and salt until well combined.
In a large bowl, beat butter and powdered sugar on medium speed 1 minute until pale and fluffy. Beat in egg and vanilla. Stir in flour mixture until just combined.
Shape dough into a disc, then wrap in plastic wrap. Refrigerate at least 1 hour.
Heat oven to 350 degrees F. On a lightly floured surface, roll out dough to 1/8-inch thickness. Use oval, egg, or skull-shaped cookie cutter to cut dough into shapes. Space cookies 2 inches apart on parchment paper-lined baking sheets. Refrigerate until firm, about 15 minutes.
Bake cookies 8 to 10 minutes until crisp and set. Transfer to a cooling rack to cool completely.
To make the icing: In a small bowl, stir powdered sugar and milk until well combined. Transfer to a quart-size resealable plastic bag. Snip off one end.
Outline cookie edges with icing, leaving a small border. Fill in the center with more icing, using a toothpick to spread out icing.
Decorate cookies with assorted candies, sprinkles, etc.