Every year on June 13th, International Albinism Awareness Day celebrates the rights of human beings born with albinism and aims to increase awareness and understanding of this genetic condition.
Albinism is characterized by a lack of melanin pigment in the skin, hair, and eyes. According to the National Institutes of Health, albinism is a rare disease. Throughout the world, one in 20,000 people have albinism. The disorder is most prevalent in parts of Africa. About one in four people in South Africa have albinism. In Tanzania, it's believed that as many as one in 1,400 could have the genetic condition.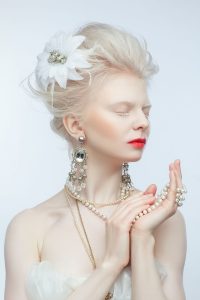 Those who have albinism are vulnerable to sun exposure. This exposure increases the chances of skin cancer and severe visual impairment. People with albinism are often referred to as an albino. However, many people consider this a derogatory term.
Albinism is still not fully understood, socially, or medically. Both parents must carry the gene for their child to have the condition. Even though the parents carry the gene, they may not have any physical signs of the condition. Since the eye needs pigment to develop a normal vision, people with albinism have impaired vision. Many people with albinism are legally blind.
Sadly, bullies target people with albinism calling them names. They are also often the object of discrimination. In Asian countries, babies with albinism are abandoned or rejected by their families. In other countries, those with albinism face barriers to health and education. Some people with albinism are often the object of erroneous beliefs, myths, and superstition. In countries where witchcraft is prevalent, people are known to kidnap children with albinism and remove their body parts for charms and magical potions. Worse yet, some people target persons with albinism executing heinous attacks and killings.
For all of these reasons, it's crucial to protect the human rights of those with this condition.
In 2013, the United Nations Human Rights Council adopted a resolution that called for the prevention of discrimination against persons with albinism. On December 18, 2014, the UN General Assembly proclaimed June 13th as International Albinism Awareness Day. The first observance was in 2015.