On September 28th of each year, we celebrate International Poke Day.
If you think this day is about the excuse to poke someone, then think again. This day is all about Poke, a dish native to Hawaiian cuisine consisting of raw fish with an arrangement of spices mixed in. Similar to sushi, Poke makes raw fish delightful by soaking up its ingredients and providing people with a light and tasty snack to munch on. Even though Poke originally started as a Hawaiian snack, it has since grown in popularity over the past decade alongside dishes like Acai bowls and bubble tea. So, if you want to learn more about this tasty snack, then read more about its history and how you can make your own dish here.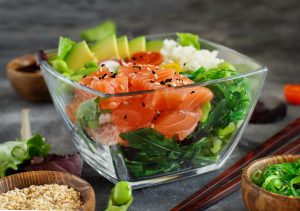 Pronounced "Poh-keh", the dish started as a snack by Hawaiian fisherman back before modern cultures brought different variations of the dish to their culture. It is considered to be a local comfort food by many of the natives on the archipelago. This dish didn't start spreading in popularity until cookbooks in the 1970s started adding it to their recipe list. As Hawaiian migration happened from the islands to the mainland United States, so did the appearance of Hawaiian restaurants pop up throughout the country. By 2012, these restaurants have increased the popularity of the dish itself. By 2014, the dish became popular throughout the rest of the world, one example including Pololi, one of the first poke shops to hit Hong Kong.
As for the celebration of poke, Sam Choy, one of Hawaii's most popular food chefs, annually hosts a three-day poke festival called "I Love Poke". The contest draws over 2,000 entries from Western Canada, the mainland United States, Hawaii, and the South Pacific. People submit their recipes and help create a wide array of delicious poke to choose from, and whoever has the most creative and tasty poke wins the contest. Nowadays, the contemporary poke you find in restaurants can be made with avocado, ponzu sauce, teriyaki sauce, mushrooms, crispy onions, sriracha, cilantro, pineapple, and cucumber.