Whether you enjoy your Martini shaken, not stirred, like James Bond, with an olive or as part of a more extravagant cocktail, Martini Day is a great excuse to celebrate with a glass. Strictly for adults, this special day celebrates all things Martini and is an ideal opportunity to research and try out different cocktail recipes you might not have sampled before.
Martini has been enjoyed as an alcoholic gin and vermouth cocktail for many decades and is now one of the most famous cocktails in the world. It can be served in a variety of ways, such as with ice (on the rocks), garnished with an olive, or with a twist of lemon. Martini is served in bars around the world and is easy to make and enjoy at home. A great idea for celebrating Martini Day is to have a group of friends round to enjoy the drink.
What do we know about Martini?
The first known recipe in print for a cocktail called the "Martinez" appeared in an 1887 bartending manual published in San Francisco. Historians, however, can't seem to agree on whether the drink actually originally originated on the West Coast or whether they just jumped on it. In 1911, a bartender named Martini di Arma di Taggia from New York City started serving a rather fancy cocktail made with gin, vermouth, orange bitters and a garnish of olives, heralding the birth of the infamous Martini as we know of it. Since then, the socialites of Manhatten have become synonymous with the boozy beverage.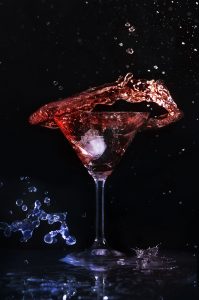 The Martini has always been served in a unique glass – the Martini glass (original, huh?). It is one of the most iconic glasses on the planet, conjuring up images of upper-class Manhatten ladies in dark, smoky bars, seductively sipping from a glass with a long, thin stem and a conical top. The glass wasn't unique – its lookalike sister is the cocktail glass, and they are often confused for one another. It is not hard to see why – the cocktail glass is a little smaller, a little more rounded, and has a slightly narrower rim. While they are both lush to look at, the reasons behind the design are more practical. The long stem and separated bowl mean that the cocktail is not warmed up too much by the hands of the drinker as there is no ice, meaning the drink stays chilled for longer. Let's face it; no one likes a lukewarm martini!
Famous fans of Martini
The Martini has it's a fair share of famous fans, both fictional and real. These include:
James Bond (shaken, not stirred!)
John D. Rockefeller (apparently the first guy to drink one, although as a supposed teetotaller, this one needs to be taken with a pinch of salt)
Humprey Bogart (his last words were reported to be "I should never have switched from Scotch to Martinis")
Ernest Hemingway
Clark Gable
Franklin D. Roosevelt
How do you make the perfect Martini?
Mix the spirits

Pour 55 ml of gin and 15 ml of dry vermouth into a mixing glass with some ice cubes.

Stir well
Strain into a chilled Martini cocktail glass
Garnish

Squeeze the oil from lemon peel onto the drink, or garnish with an olive or two.
If you want to serve it 'on the rocks', mix the ingredients as above and pour over ice cubes in a standard glass tumbler and garnish as above.
If you have a taste for the exotic or want to be a bit different, there are various other takes on the classic recipe, including:
A Dirty Martini has a splash of olive juice or olive brine and is typically garnished with an olive. Perfect if you like olives, terrible if you don't.
A Perfect Martini uses equal amounts of sweet and dry vermouth.
Don't be fooled by peach martinis, espresso martinis, and the like – the only thing they have in common with the real thing is that they are served in the same glass.