Recognizing the luck they bring to teams, franchises, and more, National Mascot Day celebrates these iconic figures on June 17th each year.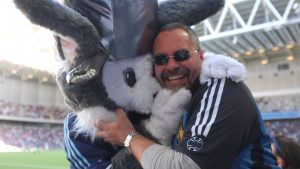 Mascots have been around for over 130 years. We derive the term mascot from the French word La Mascotte. A mascotte is considered a woman or girl with mystic powers and the ability to bring good luck. In the French opera by the same name, the character is a farm girl. The opera opened Paris in 1880, followed by additional productions across Europe.
A November 11, 1882 sports article in the London new paper, The Era, reported a football match between Middlesborough Association and a newly formed team called La Mascotte. One player, Mr. W.E. Gregory, dressed up in costume. The article doesn't describe the player's attire, but it does mention he earned a nickname from the female members of the crowd. The article also praises Gregory for his play on the field. Was he the first sports mascot?
Well, sports are full of good luck charms, jinxes and ritual. In the United States, the first mention of sports mascot shows up in baseball in 1883. According to The Dickson Baseball Dictionary, a boy working for the team named "Chic" earned a reputation of bringing good luck to the players.
These days, mascots come in an array of costumes and characters. Not only do they stir up the fan base, but they also entertain. Other mascots educate and help us find our favorite places. Whether they teach us about forest fires or welcome us to our favorite restaurants, mascots fill the American landscape.