November 26th is National Cake Day and it delivers a scrumptious treat for everyone to enjoy! Cakes are love! No matter what shape, size, or flavor they come in, we love it all. Any celebration, event, and occasion are incomplete without a cake cutting.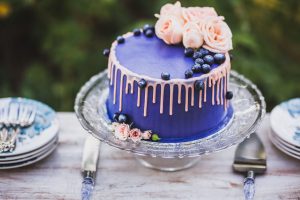 Slide over pie, this day cake takes center stage as the dessert of choice. On most birthdays, the cake is topped with candles no matter their age. Showers, weddings, retirements and anniversaries, cake serves up a slice or two. Add ice cream, and you have America's top favorite desserts in the same dish!
Cake has been everyone's favorite dessert since ancient times, though the earliest cakes were more like bread and were usually sweetened with honey. These cakes were mostly used for religious purposes and in religious and cultural ceremonies and were usually round in shape since they were made and molded by hands.
These days, advances in baking technology have made cake baking and decorating a specialized culinary field with bakers and decorators constantly trying to create elaborate, gravity-defying cakes.
Whether it's a shapely bundt cake (celebrated on November 15) to the less curvaceous sheet cake, these sweet layered, frosting covered, or fondant decorated works of art scream celebration!  Whether made from scratch, a box or picked up from the bakery, a cake sends a sweet message. They also come in many combinations and flavors, too.
No one can know how many. There are countless cake recipes. Some are even bread-like, others rich and elaborate, and many still are centuries old. Of Viking origin, the word cake is derived from Old Norse "kaka." At that time, a cake's texture was more like gingerbread due to the availability of refined ingredients.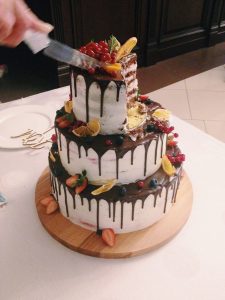 Cakes typically contain a combination of flour, sugar, eggs, and butter, or oil. Additionally, some variety of liquid, such as milk or water, creates a batter. A leavening agent such as yeast or baking powder helps the cake rise. Flavorful ingredients are often added, for example, chopped nuts, fresh, candied, or dried fruit, fruit purees, or extracts. Though we commonly think of cake with frosting or icing, many cakes can be enjoyed with just fruit or other toppings.
Cake is a sweet food made from flour, sugar, and other ingredients, that is usually baked. Cake is often served as a celebratory dish on ceremonial occasions, such as weddings, anniversaries, and birthdays.
National Cake Day Dates
| Year | Date |
| --- | --- |
| 2022 | November 26 |
| 2023 | November 26 |
| 2024 | November 26 |
| 2025 | November 26 |
| 2026 | November 26 |
| 2027 | November 26 |
| 2028 | November 26 |
| 2029 | November 26 |
| 2030 | November 26 |
Here are some fun cake facts:
The word 'cake' comes from Middle English kake, and is probably a borrowing from Old Norse.
The Red Velvet Cake Recipe was an act of Revenge – One of the interesting cake facts about Red Velvet is that the recipe was made known to the public as an act of revenge. A woman ate the Red Velvet cake in the restaurant and got quite fond of it. She asked the restaurant for the recipe and they charged $100 for the same. She got furious and circulated the recipe widely as a revenge.
The meaning of 'cake' has changed over time, and the first cake was: A comparatively small flattened sort of bread, round, oval, or otherwise regularly shaped, and usually baked hard on both sides by being turned during the process.
The world's largest wedding cake weighed 15,032 lb and was made by chefs at the Mohegan Sun Hotel and Casino, Uncasville, CT in February 2004.
The world's tallest cake stood at 7.8m tall, and it took 20 chefs more than 24 hours to make the giant cake at a mall in Luoyang
The world's most expensive cake, a birthday cake loaded with diamonds and hand-sculpted fondant with a price tag of $75 million
The first birthday cake was originally a cake given as an offering on a person's birthday. The first reference to 'birthday cake' came in 1785.
Sweet Dreams? Well, during the 17th century, in England, people believed that keeping fruitcakes under the pillow of those who are unmarried will give them sweet dreams about their fiancée.
The world record for the tallest tower of cupcakes consisting of a staggering 18,818 cupcakes, the huge structure towered above the onlooking crowd at 12.69 m (41 ft 8 in)in Chennai, India.
The world record for cupcake eating is 72 in six minutes and was set by Patrick Bertoletti in 2012.
Queen Victoria was one of the first to have pure white icing on her wedding cake. That's why it's called "royal icing."
One of the first wedding cakes wasn't actually cake at all — it was bread. In ancient Rome, bread was broken over the bride's head to symbolize good fortune and fertility to the couple.