National Cheesecake Day is celebrated on July 30th of each year. We call it a cheesecake because one of the key ingredients in cheesecake is marscapone cheese. A cake can be defined as food formed into a flat round shape which is typically baked or fried. So a cheesecake is flat, round, baked, and contains cheese hence the name cheesecake.
National Cheesecake Da is the creamiest and yummiest holiday of the year, where you can sample and indulges in some of the most delicious cheesecakes ever!
Over 4,000 years ago, the ancient Greeks created the earliest known cheesecake in the fifth century BC. This rudimentary cheesecake was made with patties of fresh cheese that were then pounded smooth with flour and honey.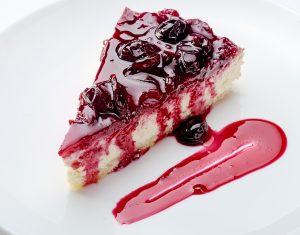 As time went by, the recipe was modified several times to get that perfect ratio of smooth to a creamy consistency, and this led us to the American cheesecake that we all know and love!
In 1872, New York dairyman William Lawrence unintentionally came up with cream cheese while he was trying to replicate a French cheese called the Neufchatel. Talk about luck, right! Cream cheese became so popular, and the demand for it became so high that it was packaged and distributed to all the local stores in the area.
Time went by, and an immigrant named Arnold Reuben from Germany, who lived in New York was once served cheese pie at an event he attended. He was so fascinated and intrigued by the dessert that he decided to experiment with the recipe until he came up with what we know today as the New York Cheesecake.
The popularity of the New York Cheesecake increased so much that different cities came up with their own versions, for example, the Chicago cheesecake, the Pennsylvanian cheesecake, etc. It became such an important part of American culture that in 1985, it was decided that on July 30 every year, National Cheesecake Day would be celebrated.
Here are some tips for making a great cheesecake.
Make sure your cream cheese is room temperature
Don't over-mix the batter or mix at a high speed
Don't open the oven. The change in temperature can cause it to fall.
Don't overbake your cheesecake. It can lead to cracks.
How many different types of cheesecakes are there? More than you would think! Here's a fun list that I found, and I'm sure I'm missing more than a few.
| | | |
| --- | --- | --- |
| Classic Cheesecake | Europe | Cream cheese, sugar, eggs, sour cream, graham crackers, and heavy cream |
| New York-Style Cheesecake | America | Cream cheese, heavy cream, sour cream, sugar, graham crackers, and egg yolks |
| Chicago-Style Cheesecake | America | Cream cheese, eggs, sour cream, vanilla extract, shortbread, butter, and sugar |
| "Cotton" Cheesecake | Japan | Cream cheese, sugar, egg whites, and egg yolks |
| Ube Cheesecake | The Philippines | Cream cheese and ube halaya |
| Vatrushka | Russia | Yeast bread dough (sweet or unsweetened), quark |
| No-Bake Cheesecake | Various countries | Double cream, cream cheese, and icing sugar |
| Basque Cheesecake | Spain | Cream cheese, eggs, and sugar |
| Ricotta Cheesecake | Italy | Ricotta cheese, sugar, eggs, and flour |
| Vegan Cheesecake | Various countries | Silken tofu, cashew nuts, coconut milk, vegan graham crackers |
| Käsekuchen | Germany | Quark, shortcrust pastries |
| Ostkaka | Sweden | Cheese, eggs, sugar, almonds, bitter almonds, and cream |
| Topfentorte | Austria | Topfen cheese, eggs, flour, sugar, lemon zest, double cream, and gelatin |
My all-time favorite, though, has to be chocolate peanut butter cheesecake. Chocolate peanut butter cheesecake mixes peanut butter into the rich cheesecake filling, which is poured atop an Oreo cookie crust. Chocolate ganache and chopped peanuts top off this decadent dessert that's worthy of an award.