On August 21st National Hawaii Day recognizes the 50th state to be granted statehood.
History of National Hawaii Day
Eight islands make up The Aloha State, the largest of which is named Hawaii. The islands of Maui, Oahu, and Kauai are the next in size followed by Molokai, Lanai, Nihau, and Kahoolawe.
Nearly 2,000 years ago, Polynesians navigated the Pacific ocean in double-hulled vessels from the west. Captain James Cook sailed to the islands in 1778 and would later meet his death on the big island.
For generations, Hawaii was ruled by the hand of the Kamehameha dynasty. King Kamehameha is still honored in Hawaii today.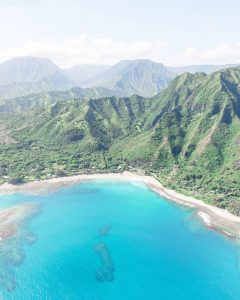 In 1874, a new king was elected to the throne. King Kalākaua was known as the Merrie Monarch. Kalākaua also developed a reputation as a diplomat as he set out to tour the globe in 1881. As a result, Kalakaua would become the first monarch to travel around the world. It would take the Hawaiin leader an entire year to complete the voyage.
While Hawaii is the 50th state to join the Union, it has long been a strategic military installation. Its location in the Pacific has been vital to U.S. Naval operations for decades. On December 7, 1941, the surprise Japanese attack on Pearl Harbor shocked the nation and propelled the United States into World War II.
The islands' beauty and traditions consistently draw visitors for rest and relaxation. Hawaii's pristine beaches, majestic volcanoes, and exotic atmosphere speak to a richly diverse heritage that is welcoming and fascinating. Dance, music, and song are taught from one generation to the next to keep traditions alive in a lush environment surrounded by ancient history.
The Republic of Hawaii was established on July 4th, 1894. Sanford Dole became the first president of the Republic. There was a brief effort in 1895 to restore the monarchy and Queen Lili'oukalani to the throne, but this effort was quickly ended. In 1898, a wave of nationalism was caused by the Spanish-American War.
Because of these nationalistic views, President William McKinley annexed Hawaii from the United States. Hawaii's statehood was deferred by the United States until 1959 because of racial attitudes and nationalistic politics. In 1959, Hawaii's status was linked to Alaska's and both territories became states that year.
It took 60 years from the time Hawaii became a United States territory until it was declared a state on August 21st, 1959.
A sovereignty movement still exists today among Native Hawaiians. The movement recognizes that the independent and internationally recognized government of the Hawaiian islands was illegally overthrown by the United States. Native Hawaiians are the only group of indigenous people living in the United States who are not recognized as a separate nation by the government. Instead, they are regarded as "wards" of the State of Hawaii.