National Oklahoma Statehood Day is celebrated on November 16, a day that recognizes the 46th state to be granted statehood – which took place on November 16, 1907.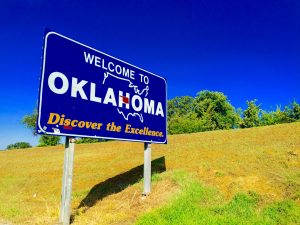 The panhandled state of Oklahoma is a dotted series of granite mountain peaks, sloping sandstone ridges, rolling hills, and plains. In 1803, the land became part of the United States through the Louisiana Purchase.
Across the state of Oklahoma, significant sites record the result of the Indian Removal Act of 1830. The Trail of Tears National Historic Trail crosses nine states and describes the brutal impact on the lives of Cherokees, Chickasaws, Choctaws, Creeks, and Seminoles.
In 1889, several counties in Oklahoma became open to settlement by Land Run. Settlers could claim quarter sections of land only after a specific time (usually noon) on a set date. Some eager settlers would cross the boundary into the county seeking their preferred quarter section sooner than the stroke of noon, earning them (and the state) the nickname "Sooners."
From the Arkansas River to the Neosho River, Oklahoma has scenic views, lakes, and mountain trails. Put on your hiking boots and make some trail mix for an afternoon adventure. After a good hike, take in Route 66 for a drive and maybe pick up some barbeque or something fried.  Oklahomans seem to have cornered the market on nearly everything fried. To mention a few, we came across fried okra and lamb balls, twinkies, chicken, turkey, catfish, green tomatoes, clams, and shrimp. For something fresh, don't forget the state fruit. Strawberries!
Interesting facts about the state of Oklahoma
Capital: Oklahoma City
Oklahoma is the nation's 20th largest state.
Oklahoma covers 69,603 square miles.
Nickname: Sooner State
Population: Almost 4 Million
State Tree: Redbud
State Flower: Mistletoe
State Bird: Scissor-Tailed Flycatcher
State Motto: Labor omnia vincit (Labor conquers all things)
There is a long list of famous people that hail from Oklahoma but some notable names include Garth Brooks, Reba McEntire, Ron Howard, Brad Pitt, Jeanne Tripplehorn, Ted Shackleford, Dr. Phil, Kristin Chenoweth, Hoda Kotb, Mickey Mantle, and of course Will Rogers.