National Tattoo Day on July 17th recognizes the history, culture, and artists dedicated to etching ink permanently on the skin. The day might just be the date to get that ink you've been contemplating.
Evidence of humans marking their bodies with permanent designs have existed for thousands of years. Egyptian and ice mummies reveal several forms of religious and status symbols.
Most people don't realize when they are getting tattooed that it's not a single needle point perforating their skin. Tattooing needles utilize groupings of needle points which are then pushed into the skin via a machine. This results in the incredible number of skin punctures throughout the tattooing process. When you get a tattoo the ink is injected directly into the second layer of skin, referred to as the "dermis". The skin atop the dermis is called the "epidermis" and acts as a sheer veil over top of the actual tattoo.
The word "tattoo" is derived from the Polynesian language for tatau, which means "to tap or to mark." Around the world, cultures surrounding tattooing vary, and some have changed very little over time. In the United States, sailors brought tattooing to coastal shores from their island exploits.
Getting inked continues to grow as technology and acceptance increases. While age, gender, religion, and class once divide the tattooed from the non-tattooed, those barriers are less common than they used to be. The reasons why we go under the needle differ, too. A tattoo may represent a significant event or hold intensely personal meaning. However, some people do get tattoos on a whim. Still, others confess, the need for a new tattoo is an addiction.
As the art form increases in popularity, considering a few things before getting a tattoo is essential:
Getting a Tattoo
Research and find a reputable artist. Remember, this art is permanent. You will want a polished finished piece with no regerts – that is, no regrets.
Once you've found an artist, be sure you have a design in mind. If you aren't an artist, pulling an idea from your head and making it a reality will take time to develop.
Check spelling. Fact check. If you use a foreign word or a quote in your design, research the meaning and check the spelling. The same applies to symbols. Just because a website translated a meaning or said symbol represented peace or love in a specific culture, doesn't mean it's true. And it's not the artist's responsibility to know either. Sometimes the design means something altogether different to the client.
Be prepared to be placed on a waiting list. Good artists are in demand.
You will pay more for good art. Nobody wants a lousy tattoo.
Day of Your Appointment
Clear your day, especially if you're getting a large tattoo.
Arrive on time. Most artists charge by the hour, and any adjustment throws their entire day off. You can't rush good art.
Dress comfortably. You will be sitting or lying in a fixed position for long periods of time.
Eat something. A protein bar won't make you fill stuffed but will keep you alert and satisfied through the session.
Bring water and stay hydrated.
Tip your artists when the session is over.
National Tattoo Day has only been celebrated for the past few years, but the art of tattooing has been around for millennia. Archaeological evidence shows that the ancient Egyptians practiced tattooing and the 'Iceman,' or Ötzi, the natural mummy discovered in glacial ice in the Alps in 1991 and carbon-dated at 3250 B.C., bore 61 tattoos. Ancient tattooing was most widely practiced among the Austronesian-speaking peoples as far back as 1500 B.C.
They practiced tattooing traditions including facial tattoos that some modern scientists allege were connected to headhunting among warring indigenous tribes. Fast forward to 17th-century Europe, 'painted' individuals were sometimes abducted from their native countries and put on public display, the European abductors collecting money for each viewing. The explorer William Dampier took his tattooed slave Jeoly, known as the 'Painted Prince,' on an extensive tour to show off and capitalize on Jeoly's tattoos.
The first tattoo shop to open in the U.S. belonged to Martin Hildebrandt, who started his business in New York City in 1846 and was sought after by Union and Confederate soldiers alike. By 1975, there were still only 40 tattoo artists operating in the U.S., but by 1980 that number had ballooned to 5,000. Today, tattoo shops are in every city and medium-sized town in the country, and on July 17, we honor their proprietors' contribution to American culture.
FIVE AMAZING FACTS ABOUT TATTOO TYPES
Blackwork

Tattoo artists using black ink achieve lighter tones for shading their images by diluting the ink with distilled water.

Fine line

Advances in technology have given tat artists the ability to use super-slim lines, aiding especially in the creation of portrait tattoos.

Watercolor

Watercolor tats, so named because they replicate the splashes of color and shade gradations of the brush-and-paper kind, often fade because of the relatively small amounts of ink used to make them.

New school

The growing trendiness of new-school tattoos — which are inspired by cartoons and anime and are not 'modern' per se — is a resurgence of their popularity during the '80s and '90s.

Koi

The meaning behind a red koi tattoo is love and energy, while a black koi represents the bearer's having overcome a major challenge.
WHILE many ink-lovers insist their tattoos are intensely personal and unique to them, they may be disappointed – as some very clear body-art trends have emerged.
A new study of 20,000 pictures on social media has revealed that roses are the most popular tattoos of 2017 so far, closely followed by popular sayings and skulls.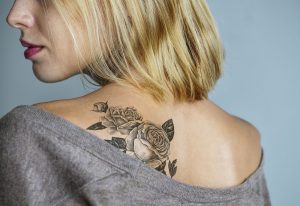 Top 10 Tattoos in Instagram
Rose (7.8%)
Popular saying (5%)
Skull (4.5%)
Pop art (4.4%)
Bird (3.9%)
Image with words (3.6%)
Script (3.5%)
Bimechanic (2.9%)
Lowbrow art (2.5%)
Black tribal (2.2%)
The Top 10 Tattoo Themes
Animals (16.3%)
Script (13.6%)
Flowers (12.5%)
Works of art (8.2%)
Flash tattoos (6.3%)
Original art (5.6%)
Face (5.3%)
Tribal (4.6%)
Skull (4.6%)
Symbolic e.g. a cross (3.8%)