On May 15, National Virginia Day recognizes one of the original 13 colonies and the 10th state to ratify the Constitution.
Virginia was the 10th state in the USA; it became a state on June 25, 1788. George Washington was born in Westmoreland County on February 22, 1732 (he was the 1st US President, serving from 1789 to 1797).
Mountains in the west stretch south and east toward swamps and islands. The population is as varied as the scenery, too. From the picturesque small towns of the Old Dominion state to bustling cities and cavernous valleys, the state's complex depth of history and topography creates unique and breathtaking experiences.
Virginia's proximity to Washington D.C. makes it ideal for government commuters and tourism to the U.S. Capital. Many of our nation's headquarters can be found in Virginia including the Central Intelligence Agency, National Fish and Wild Life Service, and the Department of Defense.  Many of these agencies can be found in the world's largest office building,  the Pentagon! In fact, more Virginians work for the U.S. government than any other state.
On National Virginia Day, we explore the people, the places, and the flavors that have developed long before European settlers arrived.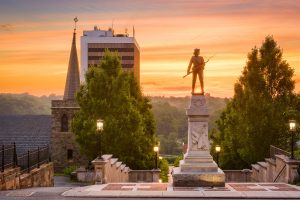 The History of Virginia begins with documentation by the first Spanish explorers to reach the area in the 1500s, when it was occupied chiefly by Algonquian, Iroquoian, and Siouan peoples. After a failed English attempt to colonize Virginia in the 1580s by Walter Raleigh[citation needed], permanent English colonization began in Virginia with Jamestown, Virginia, in 1607. The Virginia Company colony was looking for gold but failed and the colonists could barely feed themselves. The famine during the harsh winter of 1609 forced the colonists to eat leather from their clothes and boots and resort to cannibalism.
The colony nearly failed until tobacco emerged as a profitable export. It was grown on plantations, using primarily indentured servants for the intensive hand labor involved. After 1662, the colony turned black slavery into a hereditary racial caste. By 1750, the primary cultivators of the cash crop were West African slaves. While the plantations thrived because of the high demand for tobacco, most white settlers raised their families on subsistence farms. Warfare with the Virginia Indian nations had been a factor in the 17th century; after 1700 there was continued conflict with natives east of the Alleghenies, especially in the French and Indian War (1754-1763), when the tribes were allied with the French. The westernmost counties including Wise and Washington only became safe with the death of Bob Benge in 1794.