No Bra Day is an annual observance on October 13 on which women are encouraged to forgo wearing a bra as a means to encourage breast cancer awareness. No Bra Day was initially observed on July 9, 2011, but within three years it had moved to the 13th day of the National Breast Cancer Awareness Month, October.
Every year hundreds of thousands of new cases of breast cancer occur in the United States alone, with approximately 250,000 of them being invasive forms of breast cancer, and an additional 2,600 cases being found in men. No Bra Day encourages women everywhere to go without their bra to raise awareness for breast cancer and the challenges that those with it faces. If you know someone who has been affected by Breast Cancer or just want to help continue the fight against it, No Bra Day is an opportunity to help those around you know that the fight is ongoing!
If you are a woman and you are reading this, you will know exactly what we are referring to when we say that removing your bra once you get home is one of life's great pleasures! If you are a man, you will just have to take our word for it. However, No Bra Day does not celebrate this little comfort that all women can relate to. It is much bigger and more important than this.
No Bra Day is about the fight against breast cancer. A lot of people know someone who has experienced breast cancer. It is a horrible disease, which can have a heartbreaking conclusion. No Bra Day encourages women around the world to ditch their bra to raise awareness for this disease. It is a great day in terms of supporting women who have experienced breast cancer or are going through it at the moment, as well as raising awareness about the condition so that we can, hopefully, find a cure for it.
Breast cancer is one of the most common forms of cancer. In fact, it is believed that one in eight women will be diagnosed with this illness in their lifetime. That's a pretty high number! While there is a good chance of recovery, there have been a lot of women who have lost their lives because of this terrible disease.
Early diagnosis is imperative, and while breast cancer is most common in women over the age of 50-years-old, women of any age can get it. It is important that we have days like No Bra Day so that we can raise awareness about this condition and make sure that we are all doing our best to raise funds and education so that we can find a cure for breast cancer.
No Bra Day was established to raise awareness of breast cancer and its prevalence in today's society, as well as to drive opportunities for fund-raising to help keep the research moving. 1 in 8 women will develop breast cancer in their lives and have to battle a disease that can, at worst, be lethal.
But outside of just its lethality, it also has the possibility of impacting a woman's view of herself, her ability to breastfeed, and can result in surgeries that include mastectomies. Breasts are of the primary identifiers of what makes a woman, visually, a woman, and having to have them removed in the fight against breast cancer can lead to self-image issues and depression.
So why is it that women everywhere choose not to wear a bra to raise awareness of this horrible disease? Women who have been through a battle with breast cancer often have to wear a prosthesis to hide the fact that they've had a breast or breasts removed, and are unable to go without a bra as a result. By spending the day without a bra you can raise awareness and help to prevent other women from having to go through this experience.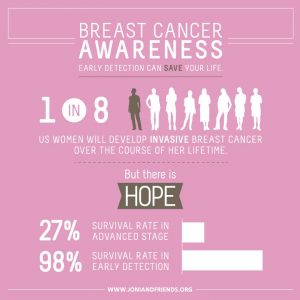 In 2020, an estimated 276,480 new cases of invasive breast cancer will be diagnosed in women in the U.S. as well as 48,530 new cases of non-invasive (in situ) breast cancer.
64% of breast cancer cases are diagnosed at a localized stage (there is no sign that cancer has spread outside of the breast), for which the 5-year survival rate is 99%.
This year, an estimated 42,170 women will die from breast cancer in the U.S.
Although rare, men get breast cancer too. In 2020, an estimated 2,620 men will be diagnosed with breast cancer this year in the U.S. and approximately 520 will die.
1 in 8 women in the United States will be diagnosed with breast cancer in her lifetime
Breast cancer is the most common cancer in American women, except for skin cancers. It is estimated that in 2020, approximately 30% of all new women cancer diagnoses will be breast cancer.
There are over 3.5 million breast cancer survivors in the United States.
On average, every 2 minutes a woman is diagnosed with breast cancer in the United States.