Put up a "Do Not Disturb" sign on your door and ban all interruptions because it is No Interruptions Day, on the last workday of the year. That day is December 31st in 2022.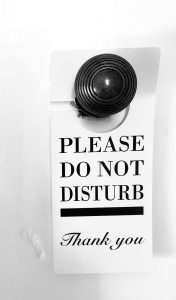 Holiday season tire you out? Ready to recharge your batteries before the New Year? While the creator of this unofficial holiday is unknown, it is very clear that they intended to create this holiday as a way to encourage people to take some time off for themselves and get ready for New Year's Eve festivities and the New Year.
Switch off your phones, disconnect your internet, and do something you really enjoy doing – knit a scarf, read a book, or work on your car, all without any interruptions.
Is there anything more irritating than to be neck-deep in a project, only to be subjected to countless interruptions by friends, family, and well-meaning co-workers? We know it can drive us absolutely nuts, and it always interrupts our workflow and makes our tasks take far longer than is necessary. When on 5-minute interruption becomes 12, we've suddenly lost a whole hour of productivity out of our day. No Interruptions Day reminds us that the best way to get a solid day to work done is with no interruptions and hopefully will serve as a reminder of those we share our lives with as well.
No Interruptions Day arose in response to a world where everywhere we go information and noise are blasted at us from every angle. Visually the world is full of flashing screens and pop-ups and outlandish things determined to draw our attention from what we're doing and make us LOOK LOOK LOOK for a moment. Whether it's the man spinning a sign in a Lady Liberty outfit advertising a tax service, or a pop-up on your phone from the latest twitter post, everything wants your attention, right now.
Then we take into account all the audial noise, advertisements on our radio stations, beeping noises from machines wanting attention, people popping by with a 'hey how ya doin' or a 'Hey Bob, I really need those TPS reports'. It all seems determined to keep us from doing what we're actually trying to focus on. No Interruptions Day encourages us to shut out and disconnect from everything causing us to lose our way. For just one day, we can finally get done what we set out to do, free of interruptions.
DATES
2020 December 31
2021 December 31
2022 December 30
2023 December 29
2024 December 31
2025 December 31
2026 December 31
2027 December 31
2028 December 29
2029 December 31