National Oatmeal Cookie Day on April 30th each year recognizes a delicious and nutritious cookie. Warm, chewy, fresh-baked oatmeal cookies. Few things spell "comfort" more than that.
Although no record seems to exist regarding the origins of Oatmeal Cookie Day, the Internet is filled with evidence that it is a genuine celebration of what is considered to be the healthiest cookie of all.
Oatcakes have been relied on to deliver quick boosts of energy since the middle ages and through recipes are today far more elaborate and tasty, oatmeal cookies are still trusted to supply a healthy dose of fiber and iron. Oatmeal Cookie Day is also trusted to flood the internet with fresh ideas for baking enthusiasts on how to best serve up the humble oat flake.
First cultivated thousands of years ago and eaten as a type of porridge, oatmeal is now dressed in the finest of fruits, nuts, candies, and spices to reign supreme in cookie jars around the world. Oatmeal Cookie Day is a fitting tribute to the taste and versatility of oats.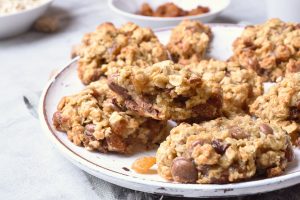 So, here's a recipe for oatmeal raisin cookies …
14 tablespoons unsalted butter (1 stick plus 6 tablespoons), softened
3/4 cup packed light brown sugar
1/2 cup granulation sugar
2 large eggs
1 1/2 teaspoons vanilla extract
1 1/2 cups all-purpose flour
1 teaspoon baking soda
1 teaspoon ground cinnamon
1/2 teaspoon salt
3 cups quick-cooking oats
1 cup raisins or dried cranberries or chocolate chips
Preheat the oven to 350 degrees.
In a mixing bowl, beat together the butter and both sugars until smooth and creamy. Beat in the eggs, one at a time. Beat in the vanilla.
In a separate bowl, combine the flour, baking soda, cinnamon, and salt. Fold the flour mixture into the butter-sugar mixture. Fold in the oats and then raisins. Drop the dough by rounded tablespoons onto ungreased baking sheets.
Bake for 8 to 10 minutes, until light golden brown. Cool on baking sheets for 1 minute before transferring to wire racks to cool completely.
Makes 48 cookies