National Pie Day is a celebration of pies that occurs annually in the United States on January 23. It started in the mid-1970s by Boulder, Colorado nuclear engineer, brewer, and teacher Charlie Papazian after he declared his own birthday, January 23, to be National Pie Day.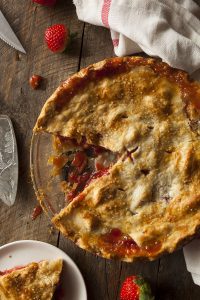 We're going to need more days in the year if we want to have a celebration for every type of food in existence. Luckily, most of the important foods, such as pie, already have their assigned dates!
Pie Day is, as you might expect a glorious opportunity to celebrate pie. Whether it's sweet fruit pies, meat-filled pies with gravy or those silly whipped cream pies that people throw for comical effect, no pie is left out during pie day and they all have an opportunity to shine!
Pies have been around for thousands of years and the recipe hasn't changed much. It's still a pastry that's filled with something and served on a plate or dish that it's baked in. It's simple, it's effective and it's incredibly filling. But what exactly do people do on Pie Day and what's it all about?
Most people see it as an opportunity to stuff themselves with all different types of pie, and this is especially easy during Pie Day as many stores and bakeries have started to celebrate it, offering discounts or even free pies as part of the celebration. However, others prefer to use Pie Day as an excuse to bake something of their own, usually with the intention of sharing it with friends and family members. Even if you don't have a clue how to bake, it's a good opportunity to learn!
History of Pie Day
Pie Day was started in the mid-1970s by Charlie Papazian. Papazian worked as a nuclear engineer in Colorado but also had experience as a brewer and teacher. We're not sure why he decided to do it, but he declared that his birthdate would also be known as Pie Day. Everyone seemed to agree (who wouldn't agree to a pie day?) and ever since 1986, it's become an official celebration that is even sponsored by the American Pie Council.