June 9th is Rosé Day, also known as Rosé Wine Day.
A common misconception is that rosé is made by mixing red wine with white wine, but in fact, this process is frowned upon by the wine community. Winemakers create a rosé wine by juicing red grapes and then allowing the juice to soak with the skins for a very short period, usually only two to three days. As soon as the juice begins to take on the beautiful pink color the winemaker desires, the skins are removed and the juice is allowed to ferment, creating delicious rosé.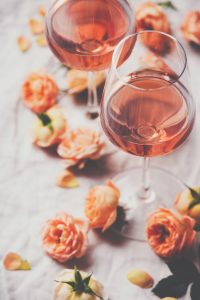 If you're a fan of wine, you're sure to know that a Red Wine is one that takes a great deal of its color from the grapes, whereas a white wine contains only elements from the juice of the grape itself. But what is this mysterious rosé wine we often hear about? Rosé Wine Day is your chance to learn the difference and just how fantastic the result is. Want it? Rosé wine is the wine that contains only some of the color of the grape skins but lacks the rich and robust color of red wine.
Most people would probably agree that the best way to learn about Rosé Wine Day is to crack open a bottle! But before the wine gets into your system, let us tell you a little bit more about this delicious drink. Rosé Wine Day is the perfect excuse for fans of Rosé to not only enjoy a glass of their favorite wine but to unite with others who enjoy the drink as well. You can make recommendations regarding your favorite types of Rosé, as well as sharing Rosé cocktail recipes and such like. It's a day of sheer enjoyment and celebration. What's not to like?
There are many different techniques that are used to make delicious Rosé wine. One of the most popular approaches involves red grape varieties being pressed early; typically only around 12-24 hours after maceration. During the process of maceration, phenolics, such as tannins and anthocyanins, which contribute a lot of flavor and color components that are leached from the stems, seeds, and skins that are left in contact with the must.
Most red wines will have a maceration that lasts at least several days. In some cases, this process can last as long as several weeks. With Rosé, the maceration period is very limited, and that is the key difference. This is why the color is less stable, and it is also why a lot of the Rosés on the market have been designed so that they are consumed soon after release. Of course, this is just one technique when it comes to making Rosé, yet it is undoubtedly the most popular one.
Bodvár – House of Rosés is believed to have started Rosé Wine Day. The purpose of this was to raise awareness of this type of wine and to give those who enjoy it a day to celebrate together. To understand a little bit more about the history of Rosé Wine Day, it helps to understand the history of the wine itself.
Wine, as you may know, has been a part of human history for a respectably long time, and throughout its history, it has come to include many different vintages and techniques related to its creation. Among those wines, we have the iconic Champagne, Red Wines, White Wines, Port Wines, Mead (Which is technically a Honey Wine), and of course Rosé wine. Interestingly it's likely that the further you go back in the history of Red Wines, the more like the new Rosé Wine they were, due to the difference in wine press technology of the time.
This is because a lot of the winemaking techniques that are used to make the more tannic and darker red wines that we see today were not practiced in ancient winemaking. Instead, white and red wine grapes were pressed quickly after the harvest – with very little time for maceration. This was done by feet, hand, or even sackcloth. The result was a juice that was only very slightly pigmented.
One of the most beautiful phrases one may hear used in reference to Rosé Wines is the term "Vin D'une Nuit," a French term which means "Wine of One Night." This term references the practice of leaving the wine base in contact with the skin for only a single night, producing the light blush commonly seen in these wines.
In the years following World War II, however, Rosé Wine would begin to explode into the world's consciousness as a Portuguese Wine Producer started releasing wines of this make that became much desired and something of a world standard. Want to know more? Research these wines as part of your Rosé Wine Day celebration!