September 30th is Rumi Day. Rumi has been described as the "most popular poet" and the "best selling poet" in the United States. Rumi's works are written mostly in Persian, but occasionally he also used Turkish, Arabic, and Greek in his verse.
Poetry has been an important part of various cultures over the centuries. It is often a highly celebrated art, so there is no wonder that many cultures and societies dedicate days to their most prized poets and writers.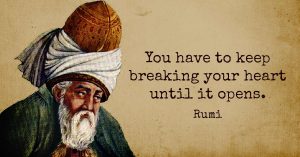 Some of those poets are so important that their days have spread and become global celebrations. One of these examples is the very popular Rumi Day, which celebrates the life and works of the Jalāl ad-Dīn Muhammad Rūmī, or Rumi as he is more commonly known.
Rumi was born in 1207 although it is unclear of the exact location. Some scholars argue that he was born in Balkh, which would be modern-day Afghanistan, while some disagree and say that he was born in Wakhsh, now in modern-day Tajikistan. In his early life, Rumi was an Islamic Jurist before finally turning to poetry at the age of 37.
Even though he came to writing at a later stage in his life than most poets, that certainly didn't hold him back. The majority of his works were written in Persian but were able to cross across borders and were appreciated by many different nationalities and ethnicities. He managed to build up a sizeable audience across Iran, Persia, Turkey, and Greece, for instance.
Even though Rumi died in 1273, his legacy has been extremely impressive ever since. His poems have been translated into numerous language and he still has a very strong English-language following to this day. You might be surprised to learn that he is the best-selling poet in the USA, even in this modern-day and age!