The first Sunday in August marks the National Sister's Day to pay homage to the most special bond in the entire universe. Whether it is the closest of bonds or an estranged relationship, family is the central force that essentially keeps us going through thick and thin in our lives.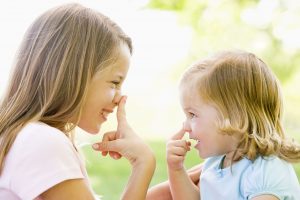 This day is to celebrate one of those bittersweet bonds that reflect many nostalgic stories, movies, flashbacks, and songs – the bond of sisterhood. So here's to all the lovely sisters for making our life miserable in heaven but all is worthwhile because we know deep down in our hearts how much we are loved.  You cared for us, nurtured us, and even shaped us into who we are today!
"Sister. She is your mirror, shining back at you with a world of possibilities. She is your witness, who sees you at your worst and best, and loves you anyway. She is your partner in crime, your midnight companion, someone who knows when you are smiling, even in the dark. She is your teacher, your defense attorney, your personal press agent, even your shrink. Some days, she's the reason you wish you were an only child." — Barbara Alpert
We think that quote from Barbara Alpert pretty much sums it up, right? If you are lucky enough to have a sister, we are sure you will be able to relate to all of that. After all, sisters share a unique bond, and it is definitely one that should be celebrated, even if it can be difficult at times!
While sisters don't always agree, they always have each other's back and they will always be there for one another. Sisters are an irreplaceable blessing that would never leave you disillusioned in any matter hence the so-called hardest critics in your life. Frequent arguments are natural, but that blood bond is something that can never be broken, no matter how difficult times may be. Sisterhood is cherished beyond any other relationship as this bond comes with a lifetime guarantee of secrecy, unspoken promises, tangible affection, and lots of bickering.
If you don't have a biological sister in your life, you may have someone who has become a sister to you, maybe your best friend forever or a sisterly neighbor you look out for you. You may discover many beautiful sisterly bonds later in life whom you feel you connect magically as well as half-sisters and stepsisters. Sisters come in many different shapes and forms, and Sisters Day is about celebrating them all!
A sister was one that you confided in, asked a question to the older ones, guided the younger ones, and we're there to help them either way during the bad times, and celebrate with them on the good times. We might not like sister's advice or boyfriends but we secretly covet their fashion wardrobe and crave their tender loving.
A sister may not be the one born of the same mother or father, but those close enough that they might as well share your blood. In fact, the very idea of sisterhood has been around for many a millennial, with churches, covens, and even groups of traveling pants forming them.
Just kidding, we all know it was a group of teenagers. But still, the idea shows merit and a bond between them that transcends even mere friendship.