One of the world's favorite dishes, spaghetti is more than deserving of its own little holiday. And because it is both simple and delicious, spaghetti is the perfect dish to make to bring out your inner chef, even if you don't have all that much cooking experience!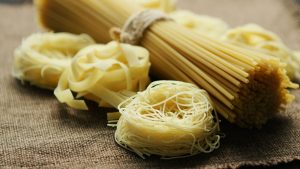 The History of Spaghetti Day
Many people don't know that the first historical reference to boiled noodles suggests that the Arabs invented the dish thousands of years ago, long before it became a staple of Italian cuisine.
What's especially remarkable about this is that historical records actually refer to dried noodles being purchased from a street vendor, which means that pasta has been sold in stores since at least the 5th century A.D.! Of course, today we associate pasta with the Italians, who revolutionized the dish and invented a wide variety of pasta shapes.
The first Western pasta was likely long, thin forms made in Sicily around the 12th century; till this day, spaghetti is the most common round-rod type of pasta and in Italian, "spaghetti" means "little lines." However, the popularity of pasta only spread across the whole country of Italy after the establishment of pasta factories in the 19th century, substantially shortening the time needed for making dishes like spaghetti and enabling the mass production of pasta for the Italian market.
The steady flow of Italian immigrants to the United States brought traditional Italian dishes with it, and spaghetti was offered in restaurants as early as the 19th century. Spaghetti then gained popularity all over the world.
Hashtag: #SpaghettiDay