Have the holidays let you down? Do you feel like the magic and mystique of Christmas has faded with maturity and age? Well, fear not my fine friends. National Ugly Christmas Sweater Day is here to save you.
National Ugly Christmas Sweater Day is celebrated on the third Friday of December each year. In 2023, it falls on Friday, Dec 15th.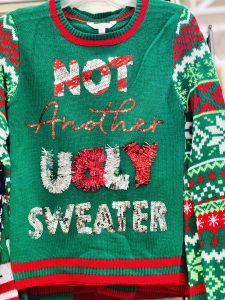 National Ugly Christmas Sweater Day is a day of light-hearted fun and a day to be yourself and not that buttoned up corporate version of yourself you have grown to despise. Most importantly, National Ugly Christmas Sweater Day is a day to make the holidays fun…the way they were intended to be! So this National Ugly Christmas Sweater Day, leave the school uniform at home, keep the preppy office blouse in your closet, and whatever you do, don't even think about taking your suit to work. All you need to wear is your ugly Christmas sweater because this is your day, this is our day, this is National Ugly Christmas Sweater Day.
Lurking in the murky depths of many people's wardrobes is a colorful, brash, and (in most cases) highly embarrassing novelty Christmas jumper which, were it not for Ugly Christmas Sweater Day, would probably never see the light of day.
When Ugly Christmas Sweater Day comes along, it's time to stop being ashamed of the contents of your (likely gifted) wardrobe and start busting out the ugly. There is such a thing as 'so awful you can't really hate it' (the nether-regions of Netflix has multiple movies that fit these criteria), and Ugly Christmas Sweaters fit the bill in your wardrobe.
Launched in 2011, this annual celebration, which is growing in popularity every year among adults and children, is not simply an excuse to parade humiliatingly-unfashionable seasonal knitwear featuring Rudolph, Christmas puddings, and Frosty the Snowman; it is a light-hearted and enjoyable fundraising event with a serious aim in aid of Save the Children.
Since then it has been used as an important event to help drive charity funds for organizations that help children around the world deal with illnesses that shouldn't be anything more than a minor inconvenience. The firm belief that children shouldn't die from easily treated diseases is what brings this holiday to the fore.
It's often speculated that we subject ourselves to a minor harmless ailment, the sight of these hideous sweaters, to help save the children from medically similar situations.