When it comes to combining flavor and plant power, National Veggie Burger Day on June 5th proclaims it can be done!
A veggie burger is a burger patty that does not contain meat. These burgers may be made from ingredients like beans, especially soybeans and tofu, nuts, grains, seeds, or fungi such as mushrooms or mycoprotein.
The patties that are the essence of a veggie burger have existed in various Eurasian cuisines for millennia, including in the form of disc-shaped grilled or fried meatballs or as koftas, a commonplace item in Indian cuisine. These may contain meats or be made of entirely vegetarian ingredients such as legumes or other plant-derived proteins.
Packed with flavor, protein, and nutrients, veggie burgers show up at backyard barbecues, tailgate parties, and on the menus of high-class restaurants. Grill them, fry them or bake them. Layer all your favorite toppings like onion, tomato, lettuce, cheese, ketchup, and mustard between crusty roll or bun and take a big juicy bite. That's one way to celebrate this flavorful day.
Don't hesitate to add your favorite side dishes, too. For example, grilled cauliflower or broccoli, a zucchini noodle salad, or roasted vegetable salad with quinoa. Other options include grilled corn on the cob and sweet potatoes. Round out the meal with a crisp, cool beverage to complement your veggie burger.
Amy's Kitchen founded National Veggie Burger Day in 2017 to encourage everyone to eat a veggie burger and celebrate the positive impact plant-based veggie burgers have on us and the planet.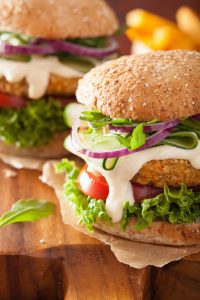 While it is not possible, or even necessary, to identify the 'inventor' of the veggie burger, there have been numerous claimants. The veggie burger, by name, may have been created in London in 1982 by Gregory Sams, who called it the 'VegeBurger'. Gregory and his brother Craig had run a natural food restaurant in Paddington since the 1960s; a Carrefour hypermarket in Southampton sold 2000 packets in three weeks after its launch. An earlier reference can be heard in the June 7, 1948 episode of Let George Do It called "The Mister Mirch Case" where a character refers to "vegeburgers," as a burger made of nuts and legumes. Using the name Gardenburger, an early veggie burger was developed by Paul Wenner around 1980 or 1981 in Wenner's vegetarian restaurant, The Gardenhouse, in Gresham, Oregon.